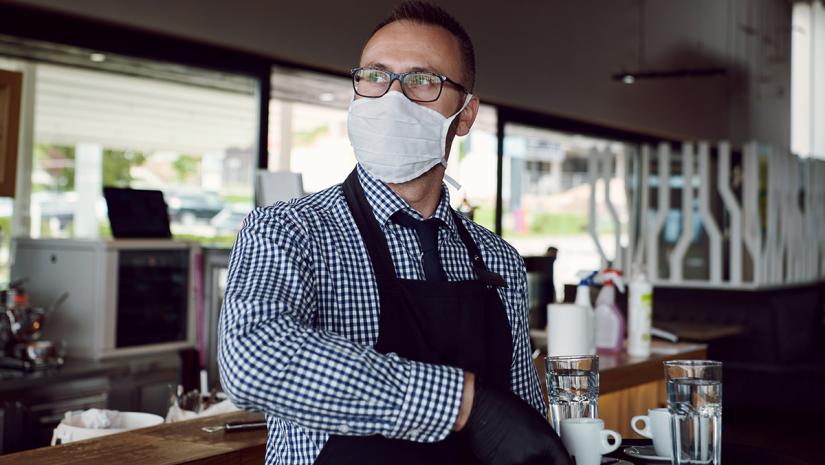 September 16, 2021
Alberta is implementing temporary health measures to help slow the transmission of COVID-19 in the province. Starting September 16, mandatory masking and physical distancing are required in all indoor public spaces. On September 20, restrictions on dining, events and recreational facilities will be implemented. To operate, as usual, certain businesses can choose to be a part of the province's Restrictions Exemption Program.
Restrictions implemented on September 20
Restaurants are allowed to provide outdoor dining only. There is a maximum of six people per table, limited to one household or two close contacts for those living alone.
Restaurants must stop liquor sales at 10 pm. Consumption of liquor at restaurants must end by 11 pm.
Indoor wedding and funeral ceremonies are limited to 50 attendees or 50 percent fire code capacity, whichever is less.
Indoor receptions are not permitted.
Outdoor wedding and funeral ceremonies are limited to 200 attendees. For outdoor receptions, liquor sales must end at 10 pm and consumption of liquor must end by 11 pm.
Indoor venues and recreation facilities such as concert venues, nightclubs, casinos and conference centres must limit attendance to one-third of fire code capacity. Individuals are only allowed to attend with their household or two close contacts for those living alone. Individuals must also be masked and maintain a two-metre distance between households.
Businesses and hosting facilities outlined above can operate as usual if they implement the Restrictions Exemption Program.
What is the Restrictions Exemption Program?
Starting September 20, individuals who are eligible to get the vaccine must provide government-issued proof of vaccination or a negative, privately paid COVID-19 test taken within the previous 72 hours to access various recreational events and businesses in Alberta.

Businesses implementing the Restrictions Exemption Program can operate as usual as long as they are only serving individuals who can provide proof of immunization or a privately paid negative COVID-19 test taken within the prior 72 hours before trying to access the business.

This program does not apply to children under 12 years old and businesses that need to be accessed for daily living.
What do participating businesses need to check?
Businesses participating in the program must check the proof of vaccination or the negative recent COVID-19 test result of customers aged 12 and older prior to allowing them access to the business. They must confirm that an individual has either:
Proof of double vaccination. Between September 20 and October 25, proof of a single dose is acceptable as long as the dose was given two weeks or more before the individual is trying to access the business.
Proof of negative COVID-19 PCR or Rapid Test taken within the previous 72 hours. Tests from Alberta Health Services or Alberta Precision Laboratories are not acceptable.
Documentation of a medical exemption.
How can Albertans get their proof of vaccination?
Albertans can get copies of their COVID-19 vaccination records through MyHealth Records. Printable cards will be available on Sunday, September 19. The province also plans on launching a digital QR code in the coming weeks.

"We are taking necessary and critical steps to prevent our health system from being overwhelmed and once again slow the spread of COVID-19 in Alberta," said Premier Jason Kenney of the government's decision to implement these temporary restrictions. "These steps are not easy for anyone, but with COVID-19 hospitalizations continuing to rise, particularly amongst the unvaccinated, we have no choice but to implement the proof of vaccination measures and temporary restrictions."

The Canadian Institute of Food Safety (CIFS) continues to monitor the situation and will continue to provide updates as they develop.