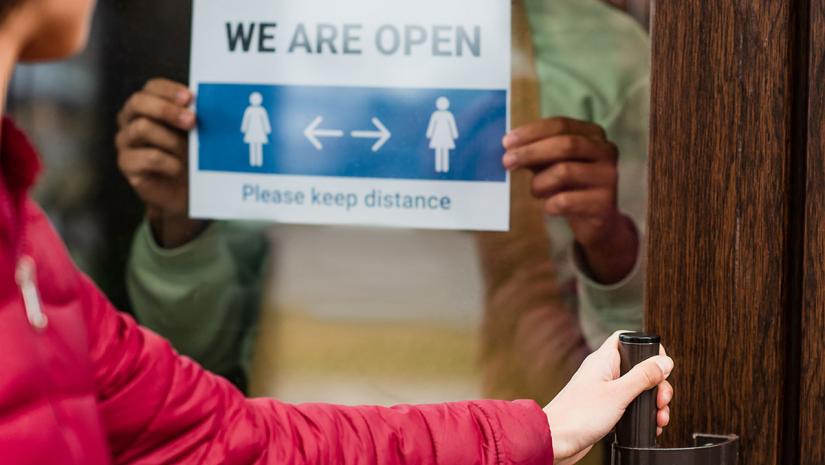 June 7, 2021
Certain regions across Canada are extending and strengthening restrictions in response to a surge in COVID-19 cases. Others are loosening restrictions and entering various phases of their reopening plans. Here's the latest news on pandemic developments in each province and territory.
Ontario
A province-wide emergency brake was implemented on April 3, with restrictions ongoing. Under the current restrictions, restaurants, bars and other dining establishments are open only for take-out, drive-through or delivery. All indoor and outdoor dining is closed. Grocery stores, supermarkets, convenience stores and farmers markets are open for in-person shopping at 25 percent capacity.

Ontario's 3-step reopening plan, Roadmap to Reopen, aims to gradually lift health restrictions based on vaccination rates and key healthcare indicators. Each step will last at least 21 days, with Step 1 expected to begin June 11, 2021.

The first step, dependent on 60 percent of adults having received their first dose of the vaccine, will allow outdoor gatherings of up to 10 people, and outdoor dining with up to 4 people per table.

When 70 percent of eligible adults have been vaccinated, Step 2 will begin, allowing large outdoor gatherings for up to 25 people, small indoor gatherings of up to 5 and outdoor dining for up to 6 people at a table. This step will further open retail, allowing essential retail to operate at 50 percent capacity, and non-essential retail to function at 25 percent.

Retail stores in malls will stay closed unless they have a front-facing entrance.
Quebec
The premier has informed Quebec residents that the reopening plan is on its way and elements like colour changes will take place in some regions faster than anticipated. As of Monday, June 7, there are no more Red zones in the province. Two of the most densely populated areas, Montreal and Laval, move from Red to Orange today. Regional colour changes taking place June 7 allow restaurant dining rooms to open in Orange, and bars to open in Yellow in some areas.

Restaurant outdoor terraces have been open since May 28, events have resumed and outdoor gatherings have been allowed on private property and balconies. Travel bans between regions were also lifted. Beginning June 11, bar outdoor terraces will be open. In Red and Orange levels, 2 adults from separate residences or occupants of a single residence can be seated at a table. In Yellow, 2 households' residents can sit together.
Alberta
In Alberta, active COVID-19 cases and hospitalizations are dropping.

Premier Kenny announced Alberta's 3-stage "Open for Summer" reopening plan that includes a staged reopening of on-premise dining. Outdoor dining resumed as part of Stage 1 from June 1 for a maximum of 4 people per table from the same household. Weddings are permitted with up to 10 people, and funerals are allowed with up to 20 people. Stage 2, which will commence June 10 as long as hospitalizations continue to drop, will see indoor dining resume with a maximum of 6 guests per table with no household bubble restriction.

Stage 3 starts July 1, when most remaining COVID-19 restrictions will be removed.
British Columbia
British Columbia's Restart effort started May 25, a 4-step plan to get life back to normal while protecting citizens. According to the government, vaccination is the most important tool in supporting the restart plan: the more adults who are vaccinated, the more the province will cautiously reopen.

Under Step 1, outdoor seated organized gatherings of up to 50 people are permitted with a COVID-19 operational plan. Indoors, up to 10 people may gather for an organized event as long as an operational safety plan is in place. Indoor funerals and baptisms have their own set of rules, with weddings being considered events that follow indoor and outdoor organized gathering rules.

As far as food businesses, indoor and outdoor dining is allowed for groups of up to 6 people, not restricted to your bubble. Liquor may be served until 10 pm.

Step 2 could begin as early as June 15, and will mean up to 50 people can attend indoor seated organized gatherings with a COVID-19 safety operational plan. Midnight will be the cutoff for liquor service, and banquet halls will be permitted to operate with limited capacity.

July 1 is the optimistic date in mind for Step 3 and will increase event capacity, allow fairs and festivals, and remove all limits on indoor and outdoor dining as well as liquor service. Bingo halls, casinos and nightclubs will also reopen with limited capacity.
Manitoba
The Manitoba government announced that they are extending current restrictions and have introduced new, stronger restrictions under the RestartMB Pandemic Response System. These restrictions will be in place until at least Saturday, June 12 at 12:01 am.

Restaurants will remain closed to indoor dining and restricted to take-out and delivery only. The restriction that only 1 person per household will be allowed to enter a business (including restaurants) has been extended.

Food court seating areas are closed. Retail stores such as markets may open with capacity limits of up to 10 percent or 100 people, whichever is lower.

Currently, no indoor public or private gatherings are permitted. Funerals and weddings are limited to 10 people.
New Brunswick
All of New Brunswick is in the Yellow level of recovery. Restaurants and bars must ensure patrons are seated at all times, except to enter and exit the premises or use the washroom. All retail businesses are open with a COVID-19 operation plan.

As of June 7, Public Health reported that 70 percent of New Brunswick residents aged 12 and over have received their first dose of the COVID-19 vaccine, with the goal of 75 percent of eligible residents being vaccinated. Health Minister Dorothy Shephard says that once that 75 percent target is reached, the province will move to the first phase of the path toward the Green level. This path includes 3 phases of slowly loosening restrictions.

The first phase allows contact with all family and friends in the Yellow areas. Informal indoor gatherings will allow up to 20 people. Formal indoor events will be permitted at 50 percent capacity with an operational plan. Outdoor informal gatherings will be allowed with 2 metres between groups, with outdoor formal gatherings at maximum capacity. The current Yellow guidance will not change during Phase 1 of the path toward Green.

Canada Day will mark the start of Phase 2, meaning restaurants, businesses and schools will return to regular capacity.
Newfoundland and Labrador
On May 24, 2021, the Government of Newfoundland and Labrador implemented enhanced public health restrictions in the central region of the province. These restrictions, listed below, apply to businesses in the towns and communities located along highway routes Route 340, Route 341, Route 342, Route 343, Route 344 and Route 351.
Restaurants may open for in-person dining at 50 percent capacity where physical distancing of 2 metres between patrons seated at adjacent tables may be maintained. Buffets are prohibited.
Businesses that hold a licence under the Liquor Control Act whose main purpose is the consumption of beer, wine or spirits are closed.
These restrictions will be in effect until June 14, 2021.

As part of the province's Together Again plan, as early as July 1, businesses will be able to operate at full capacity as long as physical distance can be maintained. Restaurants and lounges will be able to open at 75 percent capacity, though buffets will still be prohibited.

Northwest Territories
Julie Green, Minister of Health and Social Services, has extended the territory-wide Public Health Emergency through June 8.

The phased reopening of the Northwest Territories is guided by a plan, Emerging Wisely, that outlines the path to safely removing restrictions on businesses, services and activities.

Currently, in Phase 2 of 4, nearly all businesses and activities have reopened. Dine-in restaurants and movie theatres are open with physical distancing in place. Outdoor gatherings of up to 50 people are allowed. In-home gatherings of 5 people from outside the home up to a total of 10 people in the residence are permitted.
Nova Scotia
The Government of Nova Scotia released a 5-stage reopening plan based on 2- to 4-week increments that will lead to a full reopening of the province. Currently, in Phase 1, which began June 2, restaurants are permitted to open patios at their maximum capacity with physical distancing between tables, up to 10 people per table, while following province-provided guidance to ensure adequate airflow to protect customers and staff. Patios may provide service to customers until 11 pm, with closure at midnight. All live music performances are prohibited under Phase 1.

Retail stores can operate at 25 percent capacity with physical distancing.

Phase 1 allows more social connections, including creating a consistent group of 10 for socializing outdoors. Businesses and services are starting to reopen, with Phase 2, expected to begin June 16, meaning even more loosening of restrictions and increased capacity for businesses.
Nunavut
The minister of public health has extended the state of public health emergency for all of Nunavut until June 11.

Businesses are open with physical distancing in place. Where 2 metres of distance is not possible, businesses must operate at reduced capacity of no more than 10 people at a time.

Organized public outdoor gatherings — which include events such as concerts, feasts, weddings and funerals — are limited to 100 people. Indoors, each household can host up to 15 extra people who don't live there.
Prince Edward Island
Post-circuit breaker measures are in place across Prince Edward Island until further notice. All businesses, services, organizations and organizers of gatherings are required to keep records for contact tracing and have measures in place to curb the spread of COVID-19. PEI's participation in the Atlantic Bubble remains suspended.

Post-circuit breaker measures mean that retail stores and markets can operate with physical distancing. In-person food and beverage consumption is permitted at licensed facilities with a midnight closing time and tables of up to 10 people. Customers must be seated at all times, except for washroom use and entering/exiting. Alcohol may be consumed only while seated.

Organized gatherings including concerts, worship services and movie theatres are limited to 50 people. Three additional multiples of 50 are permitted (up to 200 people) with prior approval of the operational plan. Weddings and funerals may have up to two cohorts of 50 people, plus officiants when held at a pre-approved facility.

Saskatchewan
On May 30, Step 1 of Saskatchewan's Reopening Roadmap began, increasing the number of on-premise restaurant guests per table from 4 to 6 people while maintaining 2 metres of structural barriers between tables. VLTs are also open, but dance floors and buffets remain closed.

The 3-step plan will progress as the province reaches vaccination targets, with Step 2 expected to begin during the third week of June, and Step 3 in the second week of July. The premier has stated that the mask order could be lifted as early as July 11.
Yukon
Yukon updated its COVID-19 guidelines on May 25.

Bars and restaurants can return to full capacity for table service. However, no more than 6 people can be seated at the same table. Bar or counter seating must allow for 2 metres of distance between those not in the same social bubble. Establishments must maintain a list of customers and keep that information for 30 days.

Residents are encouraged to keep their bubble to a "Safe 6." For indoor social gatherings, up to 20 people are permitted. Outdoors, that number is 100, and for organized indoor and outdoor gatherings, 200 people may take part.

With high vaccination rates, Yukon residents can expect restrictions to loosen further by mid-June.