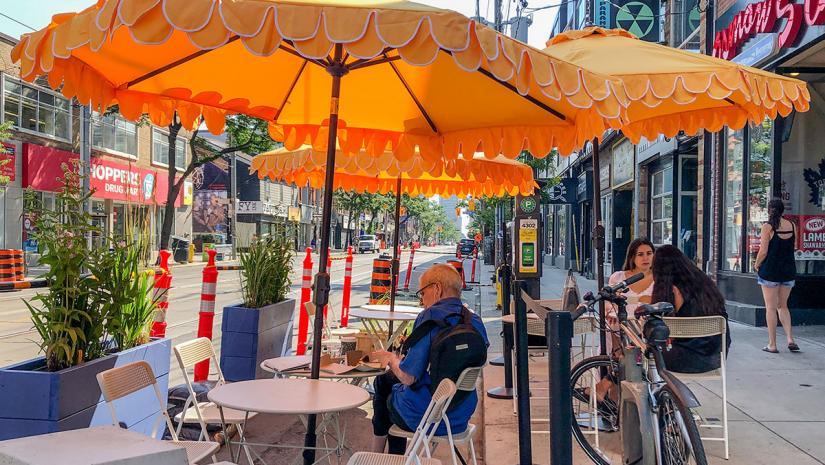 June 25, 2021
Following key healthcare indicators including vaccination targets being met and the Chief Medical Officer's advice, Ontario is moving 2 days early to the second step of its Roadmap to Reopen. To enter into this step, 70 percent of adults need to be vaccinated with one dose and 20 percent with 2 doses for at least 2 weeks. Those goals were exceeded as of June 23.

The focus of Step 2 of the 3-part plan is safely resuming some outdoor activities and small indoor services, so long as face coverings are worn. Residents will be freer to socialize, with up to 5 people indoors, or 25 people at outdoor social gatherings and organized public events.
Restrictions ease slightly for restaurants and bars
Dining and drinking establishments will be able to seat up to 6 people from different households per table outdoors, such as on patios. Exceptions to this limit may be made for larger households.

Outdoor karaoke will be permitted with some restrictions.

Indoor dining is still not permitted until Step 3.
Retail stores can allow more people inside
Essential and select retail stores can increase their capacity from 25 percent to 50 percent. Non-essential retail businesses may open with up to 25 percent capacity. Stores in shopping malls may open as part of Step 2, whether or not they have a front-facing entrance.

Liquor stores may increase their capacity from 25 percent to 50 percent.
Weddings and funerals proceed with more guests
Indoor religious services and rites including weddings and funerals can proceed in Step 2 with up to 25 percent of the room's capacity in which the event is held. Outdoor services are permitted as long as attendees maintain 2 metres of physical distance in the outdoor area.
Outdoor venues may host events
Cinemas remain closed indoors, but outdoor venues and events including concerts and theatres may run at 25 percent capacity. The same restriction applies to outdoor sports facilities. Outdoor amusement parks, fairs and waterparks may resume at 25 percent capacity. Casinos, bingo halls and gaming establishments remain closed.
Two regions will not be moving to Step 2 along with the rest of the province: Waterloo Region and Porcupine Health Unit. Due to the higher number of case counts in these regions, they will remain in Step 1 until further notice.

Ontario has been in Step 1 of the Roadmap to Reopen since June 11. The province will likely remain in Step 2 for 21 days as it monitors the effectiveness and impacts of vaccinations, and will enter Step 3 when it's deemed safe.

The Canadian Institute of Food Safety (CIFS) is closely following the situation and will provide further updates as they happen.