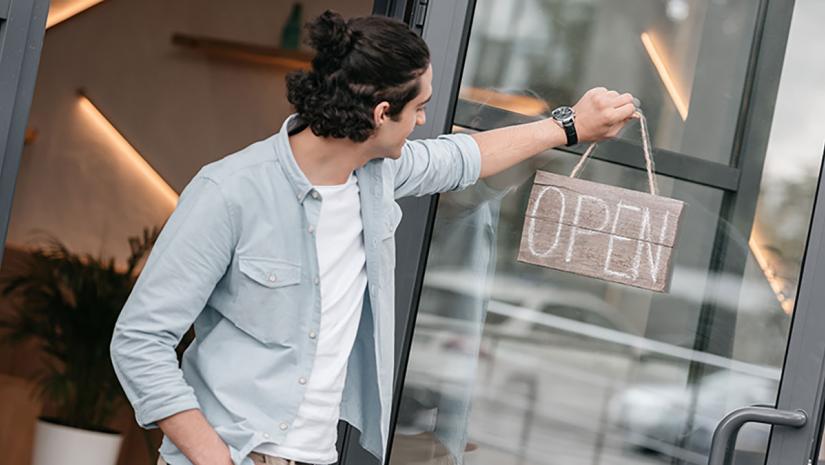 May 13, 2020
The impact of the coronavirus pandemic has varied greatly across Canadian provinces and territories, and plans for reopening reflect this. We've broken down each region's plan so you know what's happening and have the most up-to-date information.
Ontario
Ontario has announced a 3-phase plan for reopening and it's thought that restaurants and cafes may be allowed to reopen under Phase 3 when there is a "further relaxing of restrictions on public gatherings". However, this hasn't been confirmed, nor have dates been confirmed for the 3-phase plan.

At this stage, there is no clear information about when hospitality businesses in Ontario may be allowed to reopen for dine-in customers.
Quebec
Quebec has started reopening some businesses already such as retail shops with street front access, and some manufacturing and mining. However, no information has been forthcoming about the anticipated date for the reopening of hospitality businesses.

Given that Quebec has been hit so hard by the coronavirus pandemic, particularly in Montreal, this may be one of the later provinces to reopen hospitality businesses.
British Columbia
British Columbia is following a 3-phase approach to reopening. Phase 2, which allows restaurants and cafes to reopen as long as physical distancing measures are in place, is scheduled to begin in mid-May.

However, the sticking point for B.C. appears to be the approval of the restrictions or guidelines for the reopening of restaurants. While the province is aiming for a mid-May start for food businesses, the specific guidelines for doing so need to be approved by WorkSafeBC. The B.C. Restaurant and Food Services Association (BCRFA) who submitted these guidelines for approval have indicated that June 1 is a more realistic date for reopening.
Alberta
Alberta will allow hospitality businesses to open under Stage 1 of its 3-stage plan. Under this stage cafes, restaurants, pubs and bars can reopen for public seating at 50% capacity, but people will not be able to go to the bar to order drinks and they will need to be served at the table.

Stage 1 could start as early as May 14 (tomorrow), however, the provincial government hasn't confirmed the specific date as of the time of writing.
Manitoba
Manitoba has allowed restaurants and cafes to welcome guests for outdoor patio dining since May 4 provided that customers are kept at least 2 metres apart. The restrictions around Manitoba's reopening are outlined here.

If this current phase goes well, then the province intends to move to the next phase sometime in June (potentially as early as June 1) which will permit restaurants to operate indoor dining at up to 50 percent of normal capacity.
Saskatchewan
Saskatchewan is following a 5-phase plan for reopening with hospitality businesses allowed to reopen under Phase 3. Capacity limits of 50 percent will be implemented and restaurants and cafes will be expected to maintain physical distancing practices, guidelines and recommendations.

The date for Phase 3 is as yet unknown but Phase 2 is scheduled to begin on Tuesday, May 19.
Nova Scotia
The provincial government in Nova Scotia has announced they are taking a slow and cautious approach to reopen the province. No official reopening plan has been announced yet and as such, there is no clear information about when hospitality businesses may be permitted to reopen.
New Brunswick
Restaurants are currently allowed to operate in New Brunswick provided they can ensure physical distancing requirements and other guidelines are being adhered to.

New Brunswick is using a colour scheme for reopening with the state moving through red, orange, yellow and green stages. The province moved to the orange level on Friday, May 8, which allowed restaurants to reopen for dine-in guests.
Newfoundland & Labrador
Newfoundland & Labrador is using an alert level system, where 5 is the highest alert level and 1 is the lowest alert level. The province is currently at Alert Level 4.

When the province reaches Alert Level 3, restaurants will be allowed to open at a reduced capacity but buffets will be prohibited. Alert Level 4 began on Monday, May 11 and will run for at least 28 days meaning the earliest that hospitality businesses can expect to reopen in the province is on June 8.
Prince Edward Island
Prince Edward Island is using a 4-phase approach to reopening. Restaurants may be permitted to open under Phase 3 but only for PEI residents and under strict guidelines which are yet to be confirmed.

Phase 2 is scheduled to start on May 22 and Phase 3 is potentially scheduled to start on June 12.
Northwest Territories
As of Friday, May 8, all dine-in portions of restaurants in the Northwest Territories must remain closed. The territory's government has not yet released a reopening plan or any information on when these restrictions may be eased.
Yukon
All non-essential businesses in the Yukon including restaurants and cafes must remain closed. A reopening plan for the province is under development but is expected to take several weeks.
Nunavut
At the time of writing, Nunavut is the only coronavirus-free place in Canada. Despite this, Nunavut is following the same strict regulations seen in other provinces and territories across Canada and non-essential services remain closed for the foreseeable future.