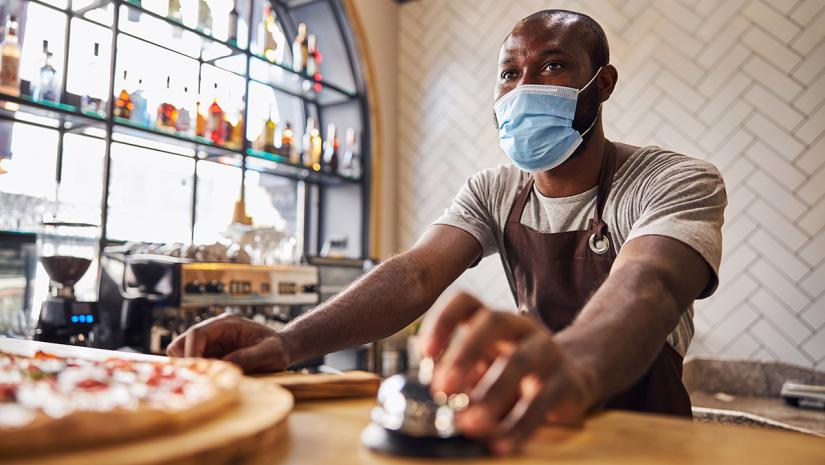 February 9, 2021
The second wave of COVID-19 has spread across Canada and caused many regions to put additional restrictions and lockdowns in place. Recently, some regions have begun rolling back their restrictions amid a decrease in COVID-19 cases. Here is the latest breakdown of where each province and territory stands with their current COVID-19 restrictions.
COVID-19 restrictions by region in Canada
Ontario
On Monday, February 8, Premier Doug Ford announced that the province of Ontario will begin to slowly transition out of the province-wide lockdown. The Declaration of Emergency will not be extended past February 9, however, the stay-at-home orders will remain in place for Toronto, Peel Region and York Region until at least February 22.

The stay-at-home order will expire for Kingston, Frontenac and Lennox and Addington Public Health, Hasting Prince Edward Public Health and Renfrew County and District Health Unit on February 10 and they will transition to the green level of Ontario's colour-coded system. All other regions will have their stay-at-home orders expire on February 16.

Premier Ford also announced that non-essential retail businesses will be permitted to reopen with capacity limits in the grey zones. Personal care services will remain closed at this time. The limit on gatherings in grey zones will also be expanded to 10 people outdoors as long as physical distancing can be maintained.
Quebec
As of Monday, February 8, lockdown measures are easing for the province of Quebec, including the reopening of some non-essential businesses. Retailers, such as supermarkets, are permitted to reopen in red and orange zones with restricted capacity. Restaurants that are in orange zones are permitted to conduct indoor dining, with a maximum of two adults per table who may be accompanied by their children under the age of 18. Personal care businesses such as hair salons are now permitted to reopen.

Curfew orders are also changing for some areas in Quebec. For areas that have transitioned to the orange zone, the curfew hours will change from 9:30 pm to 5 am.
Alberta
The province of Alberta will be reopening restaurants, one-on-one training in gyms and children's sports and performances as of Monday, February 8. Each industry that will be reopening has its own list of protocols to follow. Restaurants can open for in-person dining but can only permit 6 people per table maximum and tables must be 2 metres apart. Liquor service ends at 10 pm and in-person dining must close by 11 pm.
British Columbia
British Columbia's COVID-19 restrictions were set to expire at midnight on February 5, but they have been extended indefinitely. According to the province, progress has been made but it is still not safe enough yet to permit people to gather again.

Under the current restrictions, gatherings must be limited to people of the same household and masks must be worn in indoor public places. People are still permitted to dine inside or on the patio of restaurants but they must only dine with their household. A maximum of six people are permitted at a table.

There is currently no official expiry date on the extended orders.
Manitoba
According to an announcement by Premier Brian Pallister last week, the province of Manitoba could be seeing the easing of restrictions and reopening of some businesses as early as this week. This would include the reopening of restaurants, gyms, nail salons and tattoo parlours. This easing of restrictions would bring the entire province under the same restrictions.

Under the current restrictions, non-essential retail stores can only operate with a 25% capacity and restaurants can only provide drive-thru, take-out and delivery services. For personal gatherings, a ban on in-home gatherings was recently eased to permit two designated people (either family members or friends) to visit someone's home.
New Brunswick
The current "red zone" and lockdown restrictions in place in New Brunswick will continue until at least early this week, according to the province. The Moncton region is in the red zone and the Edmundston region is currently in lockdown. The rest of the province is in the "orange zone". Despite the possibility that the two red zones will be moved to the orange zone in the near future, the province indicated it is unlikely that any region will move to yellow anytime soon.

Under the lockdown restrictions, people must stay within their single household bubble and not travel to other regions unless for work, medical appointments, custody arrangements and education purposes. Food businesses are closed and can provide drive-thru, take-out or delivery services only.
Newfoundland and Labrador
Newfoundland and Labrador is currently in Alert Level 2. Under the current restrictions, restaurants and bars can operate with limited capacity and health measures in place. Other recreational facilities can operate with restrictions in place based on their industry. As for gatherings, 100 people can take part in a gathering by an organization as long as physical distancing is maintained and restrictions are followed. Family events are permitted to have up to 20 people as long as physical distancing is maintained and restrictions are followed.
Northwest Territories
Last week, NWT health minister Julie Green announced that there was a growing consideration of easing gathering restrictions now that more of the NWT population had received the Moderna vaccine. The territory has been in Phase 2 of its pandemic recovery plan since June 2020, and the static restrictions are beginning to have significant effects on the mental health of the populace, according to the health minister.

Under the Phase 2 restrictions, dine-in restaurants and movie theatres are open with physical distancing measures in place. Outdoor gatherings of 50 people are permitted, but in-home gatherings are limited to five people from outside the household with a maximum of ten people permitted inside the home.
Nova Scotia
As of Monday, February 8, the province of Nova Scotia will be easing restrictions in response to no new COVID-19 cases being identified on Friday. The eased restrictions will be in place until at least March 7.

Under the loosened restrictions, retail businesses and fitness facilities can operate at 75% capacity. Recognized businesses and organizations can resume hosting events with 150 people outdoors, or 50% of a venue's capacity to a maximum of 100 people indoors. For restaurants and other licensed establishments, service must continue to stop at 10 pm and close by 11 pm. The household gathering limits will remain at 10 people.
Nunavut
Currently, the community of Arviat is under full lockdown with travel to and from Arviat being restricted. This is in response to an outbreak of COVID-19 cases with no link to an outside infection. It is suspected that the cases are due to gatherings in people's houses. All non-essential businesses, government offices and schools are currently closed. For the time being, restrictions in all other Nunavut communities will remain the same.
Prince Edward Island
Health officials in PEI are reporting no new COVID-19 cases at this time. Currently, the province is under post-holiday circuit breaker measures until at least February 16. Under the measures, in-person dining is permitted at food businesses with a maximum table size of 10 people. Customers must be seated at all times except when entering, exiting or going to the washroom. Personal gatherings are limited to 10 people indoors and outdoors with physical distancing measures in place.
Saskatchewan
At the end of January, the province of Saskatchewan extended its restrictions for another three weeks. Under the current restrictions, indoor gatherings are restricted to only those who live within the same household. However, residents are permitted to conduct a variety of activities such as dining inside restaurants. Movie theatres, barbers and worship services are also open.
Yukon
Despite there being no current outbreaks of COVID-19, the Yukon Territory will keep its restrictions in place for the time being. Yukon is nearing the second part of Phase 3 out of their four-phase COVID-19 response. Under the current restrictions, social bubbles are limited to 15 people. Indoor, seated events can have up to 50 people with physical distancing, and outdoor seated events can have up to 100 people with physical distancing in place. Restaurants are open for businesses as usual with 100% capacity permitted as long as physical distancing measures are maintained.