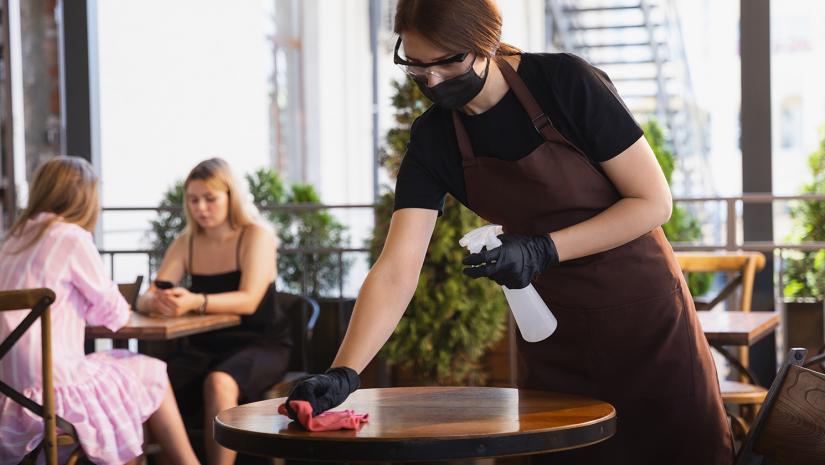 November 2, 2020
As the second wave of COVID-19 ripples through Canada, food businesses in some regions are finding themselves dealing with reintroduced restrictions in an effort to stop the spread of the coronavirus. Some areas have already had restrictions reintroduced while others will be seeing them coming in the days and weeks ahead. The following is a breakdown of what areas throughout the country are dealing with second-wave restrictions and what this means for food businesses in those regions.
Winnipeg, Manitoba reinstates restrictions
This week, the Winnipeg Metropolitan Region will be seeing reintroduced restrictions for restaurants. As of Monday, November 2, restaurants will no longer be permitted to offer dine-in service for customers. Dining rooms must be closed and food businesses are only permitted to provide take-out or delivery services. These restrictions come as the province saw a record daily increase of 480 COVID-19 cases this past Friday.

Many food businesses in Winnipeg admit that the closures a second time around will not be easy to navigate. Some food businesses have already laid off employees knowing that providing take-out and delivery services only will not be enough to support all staff. Other food businesses remain hopeful that they can manage and survive the second wave restrictions just like they did the first time.
Ontario regions may see lifting of restrictions soon
A few weeks ago, Ontario Premier Doug Ford placed Toronto, Peel Region, York Region and Ottawa in a modified Stage 2, which meant that food businesses had to close their dining rooms and switch to take-out and delivery only. These restrictions are to be in place for 28 days in order to combat the significant rise in cases over the past month. Food businesses have complied, but not without suffering financial challenges and losses just like during the first wave of COVID-19.

The 28-day period is coming to an end at midnight on Friday, November 6, for Toronto, Peel Region and Ottawa, with York Region following next week. The Premier is now asking public health experts to present a plan to begin easing restrictions safely as the period comes to an end. The goal is to create a plan that will allow food businesses to reopen their dining rooms and operate safely without having to keep reinstating restrictions. This is welcome news for food businesses in these regions, many of which have stated they cannot continue operating with fluctuating restrictions.
Montreal, Quebec restrictions remain
On Monday last week, restaurants and bars in Montreal Quebec were informed that their 'red-zone' restrictions will remain in place for at least another 28 days. Food businesses in the red zone will need to remain closed to the public and only provide take-out or delivery. The decision has been met with significant backlash from food business owners who insist they have done nothing wrong and want proof that restaurants and bars are causing the spikes in COVID-19 cases.

In response to the backlash, Quebec Premier Francois Legault stated that the aid programs that have been put in place for food businesses will continue during the extension period and that no new programs will be introduced.
The Canadian Institute of Food Safety will continue to provide updates on regional second-wave restrictions as they become available.