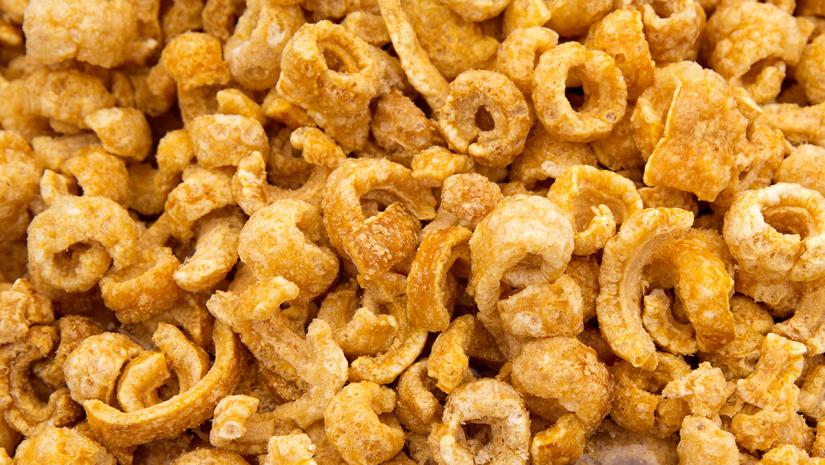 August 25, 2021
Morgan Williams International Inc. is recalling Mr. Porky brand Original Scratchings from the marketplace due to possible Salmonella contamination.

While there have been no reported illnesses in Canada, in the United Kingdom, nearly 200 people have fallen ill in a Salmonella Infantis outbreak linked to the consumption of pork scratching products. The U.K. recall triggered the Canadian recall of similar products, according to the Canadian Food Inspection Agency (CFIA), which is currently conducting a food safety investigation that may lead to more high-risk products being recalled.
Recall details
Mr. Porky brand Original Scratchings (Cooked Seasoned Pork Rind) in a 65g package are being recalled. The recall includes all best-before dates up to and including February 19, 2022, and have the UPC 5 010052 112700. The recall reference number is 14562.

Businesses carrying this product should remove them from sale immediately. Anyone who has already consumed these products or suspects they have contracted salmonellosis should seek medical attention.
Salmonella signs and symptoms
Salmonellosis, an infection caused by Salmonella bacteria, can be spread through contaminated food or drinks. The bacteria are often found in the intestines of animals.

The illness has a range of symptoms, including:
stomach cramps
diarrhea
nausea
vomiting
headache
fever
chills
These symptoms typically begin 12 to 72 hours after eating contaminated food. It is possible to be infected but be asymptomatic, and still pass the illness on to others. Salmonellosis is particularly dangerous for unborn babies and children, pregnant women, the elderly and anyone with a compromised immune system.
Preventing salmonellosis
Food contaminated with Salmonella may not look or smell spoiled, making it difficult to identify. However, general hygiene and food safety practices can help prevent not only salmonellosis but a variety of other communicable illnesses.

Food Handlers should thoroughly wash their hands after using the toilet, after blowing their nose, coughing, sneezing or touching their face — and of course before and after working with food.

They should keep raw meat and poultry separate from prepared, ready-to-eat foods. They must ensure cutting boards, countertops and utensils are clean, and always wash fresh produce before serving.

Anyone who suspects they are ill should never work with food.

At the Canadian Institute of Food Safety (CIFS), our mission is to reduce food-borne illness in Canada. With that goal in mind, we pay close attention to recalls affecting food businesses across the country. For more information, contact CIFS.