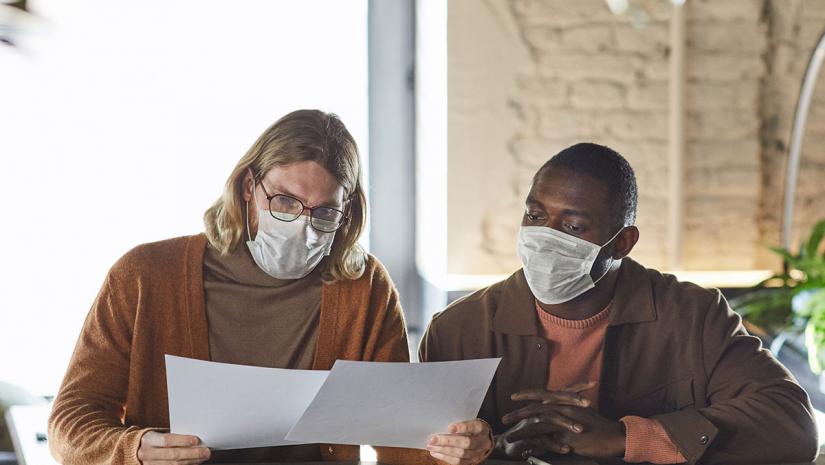 December 21, 2021
New restrictions have come into effect this week in British Columbia, Manitoba and Quebec to help curb the rise of COVID-19 cases driven by the highly contagious Omicron variant. Here's what food businesses need to know.
British Columbia
From Monday, December 20 to January 31, 2022, new restrictions are in effect that impact large public events such as sports games, and limit indoor gatherings. New Year's Eve events are also cancelled. For individuals, indoor gatherings are limited to household members plus 10 guests or one extra household, provided each guest over the age of 12 is fully vaccinated. Further restrictions cover businesses and events.
Restaurants and pubs must ensure patrons are seated at all times and do not mix with other groups. Organized events such as New Year's Eve parties are not permitted, and no standing or dancing are allowed. Customers must wear masks when not seated at a table.
In B.C.'s Northern Health authority, nightclubs are closed and alcohol service must cease by 10 pm.
Venues that normally accommodate more than 1,000 people are limited to 50 percent capacity. Attendees must show proof of vaccination using B.C.'s vaccine card. Many large events are being postponed or cancelled due to restrictions. These include several hockey games, a Broadway Across Canada play, an international auto and boat show, and New Year's Eve concerts.
Retailers are urged to have COVID-19 safety plans in place for holiday shopping, especially on big Boxing Day and other traditionally busy shopping days.
The province is escalating vaccine QR code scanning in order to ensure full vaccination in social and public settings.
Sports tournaments and related travel are not allowed.
Many restrictions have not changed, such as:
There are no group limits for indoor and outdoor restaurant dining — venues can determine their own table limits. Guests may dine at a restaurant or pub on New Year's Eve. Normal liquor service hours are in effect.
Casinos can operate at full seated capacity.
Worship services are not limited in number of attendees as long as everyone is fully vaccinated. If all attendees are not fully vaccinated, the venue must operate at 50 percent capacity.
Manitoba
In Manitoba, the latest public health orders are in effect from Tuesday, December 21 and are set to expire on January 11, 2022:
Restaurants and other licensed businesses must operate at 50 percent capacity with a maximum of 10 people per table. Customers must stay seated except when getting food or drinks or participating in sporting activities. Proof of vaccination is required.
Outdoor ticketed performing arts events and indoor recreational businesses such as movie theatres, gyms, bingos and casinos are limited to 50 percent capacity. Proof of vaccination is required.
Indoor and outdoor sporting events are limited to 50 percent for spectators.
Quebec
In addition to the public health measures that came into effect earlier this week, the province has also decided to close bars, movie theatres, concert venues, gyms, spas and schools as of 5:00 pm on Monday, December 20. Restaurants must operate at 50 percent capacity and limit their business hours from 5:00 am to 10:00 pm. Professional sports games must be played without spectators.